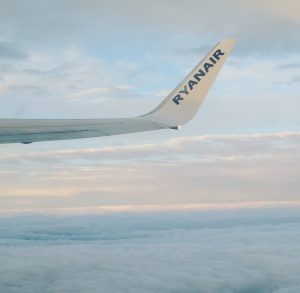 So I recently jetted off on another holiday in Spain, for a week of complaining about the heat and abusing the all-inclusive.
Despite a last-minute panic about whether Ryanair were going to cancel our flight home, we made it back to these rainy shores without major incident.
Last time we visited, we had a day-trip to Barcelona and visited the fabulous BierCab, which is a true emporium of craft beer wonderment, but this time – as we were forgoing the trip into the city – I decided to see what beer I could find in the local tourist towns.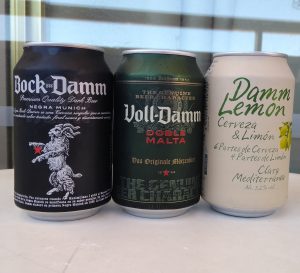 We were staying in Santa Susanna, so as you'll find elsewhere in Spain, Estrella Damm dominates. It isn't a terrible beer, and anything tastes better in the sunshine, but it isn't what I'd usually choose to drink. So I thought I'd see firstly what other offerings the same brewery churns out.
In a local liquor store I found Bock Damm (a German Dunkel-style dark ale), Voll Damm (a stronger version of Estrella) and Damm Lemon (essentially a radler). The Voll Damm was around 7.5%, and you could certainly taste the alcohol. I wasn't incredibly enamoured.
Next,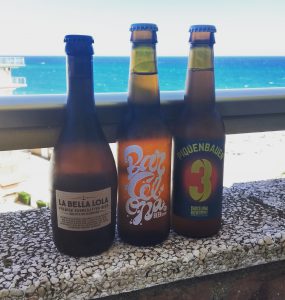 I popped to the local Carrefour supermarket and finally located some true craft ales. These are all by Barcelona Craft Beer Company, which seems to be a local equivalent of Brewdog in terms of size and distribution, as they seem fairly widely available in larger supermarkets.
Here I have their La Bella Lola (a frankly delicious blonde ale), their 'Barcelona' pale ale, and Piquenbauer ginger wheat beer. Apparently this is named after a Barcelona footballer, but someone else had to point this out to me, as my interest in football couldn't be more negligible.
But I wanted more, and I'd done my research.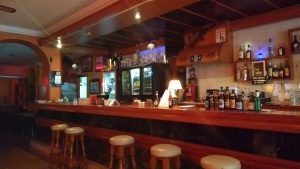 On Tripadvisor I'd looked around the local area for anything which appeared to be an authentic Spanish craft beer bar and I hit the jackpot when I discovered Bocattan. This was over in the next town, Pineda De Mar, so we set off on a 45 minute walk down the beach from Santa Susanna.
Now, we quickly discovered that it was located in a fairly Spanish area of a fairly Spanish town. It certainly wasn't a bar visited often by tourists. When we arrived not long after opening, we were the only people there, and the owner spoke little to no English. (This is of course not a complaint, it is entirely my fault for being an ignorant English tourist.) But we communicated in the universal language of beer, and what fabulous beer it was. The owner clearly knew his stuff.
I started off with a Catalan IPA by Tibidabo Brewing (I get the impression the owner prefers to stock Catalan beers over Spanish ones, a debate which should gain promenance in a couple of weeks as Catalonia attempts to hold an independence referendum declared illegal by Spain). This IPA was delicious, quite dark and malty, miles ahead of any other Spanish beers I'd tried.
Next up was Timmermans Faro on keg, a sweet Belgian lambic which I'd had from a bottle a couple of years ago, but this was far superior and only around €3 a glass. I think by this point the owner got the impression I wasn't new to these kinds of beers. In something of a first for me, he was also offering 60/40 lambic and IPA mixes (I'm assuming this was the Faro mixed with one of the Catalan beers) which was a great idea.
I finished off with the Dry and Bitter's "Dank and Juicy" IPA, which is a beer I'd been looking for back home for a while, and as soon as I spotted it in the fridge I knew I had to give it a go. As expected it was delicious, hazy and fruity. I then stumbled out of the bar onto the beach, to walk back to the resort as the sun went down on the beachfront.
Foreign holidays are always tricky for us craft beer enthusiasts who balk at drinking lager for a week, but if I have any advice for anyone looking for good beer on a Spanish all-inclusive, do your research and hope you get lucky like I did!